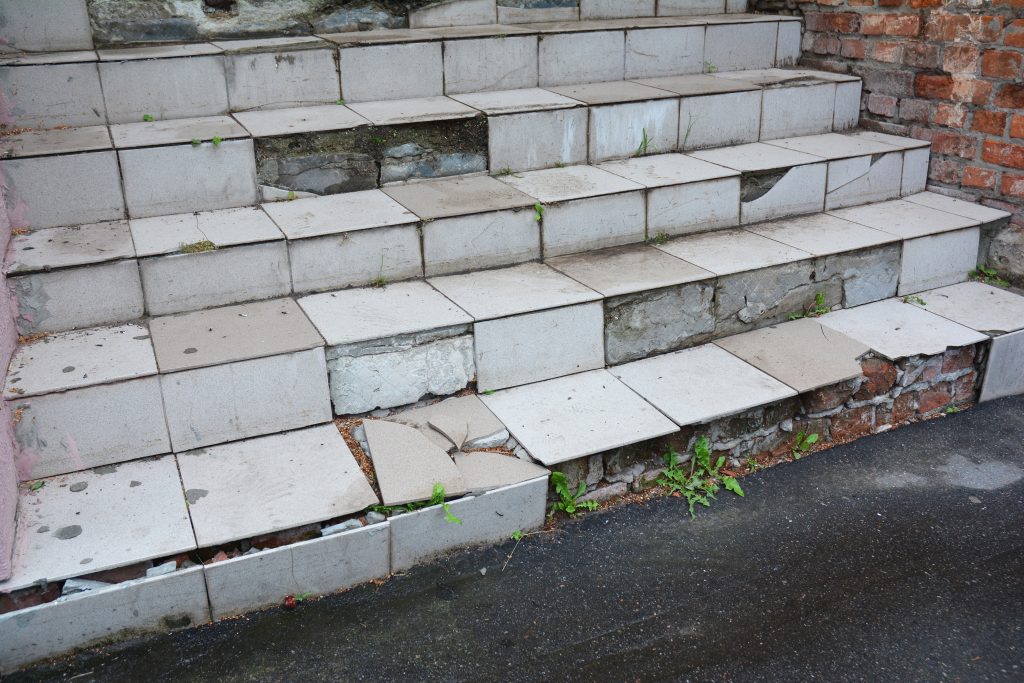 Know Your Rights on Premises Liability Accidents in New Jersey
There are many different types of cases involving a New Jersey slip and fall, or fall down accidents. Generally, these occur when a person or company does not reasonably provide a safe environment or safe walking conditions when you are on their premises (such as inadequate lighting, slippery surfaces due to untreated snow or ice, or defective stairs / stairwells and walkways, etc.). These types of cases include: negligent security, inadequate security, dog bite attacks, slip and fall accidents, grocery store and shopping center accidents, accidents at your apartment, hotel, or home unit rental premises.
Negligent or inadequate security cases often involve a crime, whereby due to inadequate security, a person is attacked and suffers injuries due to the negligence of the property owner to properly secure their premises. Examples include inadequate lighting, broken gates, doors or locks that a property owner, or their third-party maintenance contractor, should have reasonably known about and repaired.
Serious injuries can also occur when a dog owner does not properly confine and / or train and control their dog. The physical injuries, such as puncture wounds, broken bones and lacerations need to be immediately addressed with a medical facility. Moreover, many people in a dog bite attack suffer the resultant psychological effects, such as post-traumatic stress disorder (PTSD), and require psychological treatment.
Examples of unsafe or hazardous conditions at commercial properties include a broken curb or sidewalk, a pothole, a broken handrail, or slippery / unsafe entranceways, such as at a retail store, hotel, parking garage or shopping mall. Visitors at commercial establishments have a reasonable expectation to enter and exit a business without being injured due to an unsafe or dangerous condition. Business owners, property management firms, and/or the contractors they hire to maintain, inspect and repair their premises should ensure a safe environment inside and outside their property for their customers, visitors and guests.
To be successful in a New Jersey premises liability lawsuit, you must prove the property owner – landlord or property/commercial business owner – was negligent in not maintaining their property in a safe condition, and/or his contractor's actions, or lack thereof, led to a dangerous condition that caused your accident. In sum, it is a commercial property owner's responsibility to take reasonable steps to ensure their premises are safe, and that no unsafe conditions exist where someone could slip, trip or fall, be injured by a dog, or be injured or killed by negligent and/or inadequate security.
Contact the Todd J. Leonard Law Firm for a Free Consultation
The Todd J. Leonard Law Firm has over 25 years of experience handling all types of premises liability injury claims throughout New Jersey. Todd J. Leonard is Certified by the Supreme Court of New Jersey as a Certified Civil Trial Attorney, and has devoted his entire career to fighting for his clients' rights. Our firm passionately represents our clients who have been injured, and his team of experienced New Jersey Accident Attorneys are dedicated to doing their best to help their clients, and will treat you like family. There is never a fee unless you win.
The Todd J. Leonard Law Firm has four convenient locations, including in Morris County, New Jersey – Denville (our main office), and Morristown, as well as offices in Newark and Woodbridge. Contact us today at (973) 920-7900 so you can get the justice you deserve!