New Jersey Spinal Cord Injury Attorneys
One simple blow to a small disk on the spinal cord can dramatically transform someone's life in a matter of seconds. When the spinal cord experiences trauma from an outside force, it can impact an individual's motor skills, sensory functions, and can cause partial or even total paralysis. The spine is one of the most vital components of a person's body, and the slightest damage to it can cause detrimental injuries.
The consequences of a spinal cord injury can completely change a victim's life. If you've sustained a spinal cord injury, you should not have to face these struggles on your own. Contact the New Jersey spinal cord injury attorneys of the Todd J. Leonard Law Firm to learn more about how we can help you in your battle for compensation.
Spinal Cord Injuries
Spinal cord injuries (SCI) refer to any damage to the spinal cord caused by external trauma, as opposed to an internal disease. Severity of injury and extent of damage depends on the location of the trauma. The spinal cord is made up of 33 segments that serve as the travel route for nerve signals transmitted between the brain and the rest of the body. Therefore, depending on which region of the spinal cord receives the initial impact, the nerve transmission of its respective body function and the actual spinal cord disk could be affected.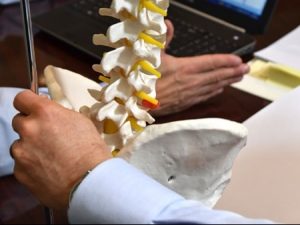 Because of the highly sensitive nature of the spinal cord, treatment of injuries usually requires specialized medical attention, extensive rehabilitation, and therapy. Many spinal cord injuries require surgical procedures such as fusion to stabilize the spine and to prevent further damage, especially because spinal cord injuries often affect an individual's mobility.
Depending on the exact location of the spinal cord injury, victims may have neurological impairments to the musculature, respiratory, gastrointestinal, or urinary system. Many spinal cord injuries restrict or drastically limit normal daily activities, including work. It is very common for individuals with spinal cord injuries to have severe depression. Spinal cord injuries can be devastating physically, emotionally, and financially.
Common Causes of Spinal Cord Injury
It has been estimated that over 12,000 Americans sustain spinal cord injuries every year. Since the trauma to the spinal cord must occur from an external source, SCI's most commonly originate from accidents and acts of violence. In fact, the Centers for Disease Control and Prevention found the leading cause of spinal cord injuries is motor vehicle collisions. These collisions, including motorcycle accidents, car accidents, and pedestrian accidents, account for over 40% of all spinal cord injury reports every year.
The study shows the second leading cause for spinal cord injury is slip and fall accidents, which account for almost 30% of spinal cord injuries each year. Individuals may find themselves victims of such accidents in a number of different settings, often due to unsafe conditions on private property, a construction site, or even a public retail store. Other causes of spinal cord injury include sports and recreational injuries, domestic violence, and gunshot wounds.
Medical Costs
It is estimated that the average medical costs are approximately $15,000 to $30,000 per year. Estimated lifetime costs can range from $500,000 to more than $3,000,000 depending on the nature of the spinal cord injury. Due to the serious nature of spinal cord injuries and their devastating physical, emotional, and financial effects, it is important to retain the services of an experienced New Jersey spinal cord injury attorney.
Contact a New Jersey Spinal Cord Injury Lawyer
At the Todd J. Leonard Law Firm, Attorney Todd Leonard combines his passion for justice with his extensive legal experience in order to obtain the best possible compensation for our clients and their families. We have been protecting the rights of our clients for over 25 years. Our dedication to excellence has earned our firm recognition in legal and local communities alike, and our New Jersey personal injury attorneys have been included on the list of New Jersey's Super Lawyers®. Attorney Todd Leonard is Certified by the New Jersey Supreme Court as a Certified Civil Trial Attorney. We are committed to providing outstanding representation for our severely injured clients and treat our clients like family.
If you are an innocent victim of a spinal cord injury, we understand how difficult your situation must be and we want to help you obtain the financial compensation you deserve for the full extent of all of your injuries and losses. Contact our New Jersey spinal cord injury lawyers at for a free confidential consultation to learn more about how we can protect your rights.