New Jersey's Distracted Driving Law – "U Drive, U Text, U Pay"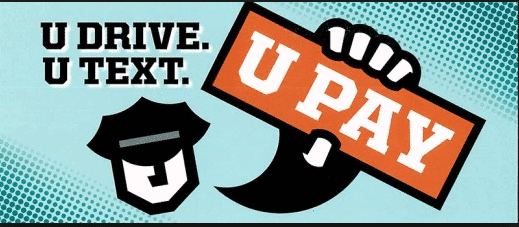 April is National Distracted Driving Awareness Month. During New Jersey's enforcement of its "U Drive, U Text, U Pay" campaign (which is also a national campaign), if you are observed by a NJ Police Officer as being distracted while driving, such as texting or viewing your navigation system, you are at even more risk of getting pulled over and paying a steep fine. This campaign focuses on violations of the New Jersey Cell Phone Statute 39:4-97.3.  Lawmakers and those who enforce it, want to ensure the driver's focus is on safely operating their vehicle, and not distracted by another device.
Per the state's nj.gov website on the crackdown of distracted driving, "All distractions endanger driver, passenger, and bystander safety. These types of distractions include:
Texting
Using a cell phone or smartphone
Eating and drinking
Talking to passengers
Grooming
Reading, including maps
Using a navigation system
Watching a video
Adjusting a radio, CD player, or MP3 player
Because text messaging requires visual, manual, and cognitive attention from the driver, it is by far the most alarming distraction."  The first offense will cost you between $200 – $400, which does NOT include court costs.  A second offense will cost you between $400 – $600.
Each year, thousands of people are killed across the country as a result of distracted driving.  In a 2016 AAA survey of 655 New Jersey motorists, 94 percent said they believe other drivers are very, or somewhat, distracted when using a hand-held phone or a hands-free device to talk or text. Distracted driving can lead to very serious and fatal accidents. We urge everyone in New Jersey to take a pledge never to text and drive, since it puts everyone's lives at risk. No phone call or text message is ever worth endangering yourself or others.
Contact Us Now for a Free Consultation
If you or a family member have been injured in an accident, or lost a loved one, due to the actions of a distracted driver, it is important to contact our team of experienced New Jersey Accident lawyers.  Todd J. Leonard is Certified by the Supreme Court of New Jersey as a Certified Civil Trial Attorney, and has devoted his entire career to fighting for his clients' rights. Our firm passionately represents our clients who have been injured, and our New Jersey Personal Injury Attorneys are dedicated to doing their best in helping their clients, and will always stay in close communication with you.
The Todd J. Leonard Law Firm can get you the justice you deserve. Call (973) 920-7900 today!