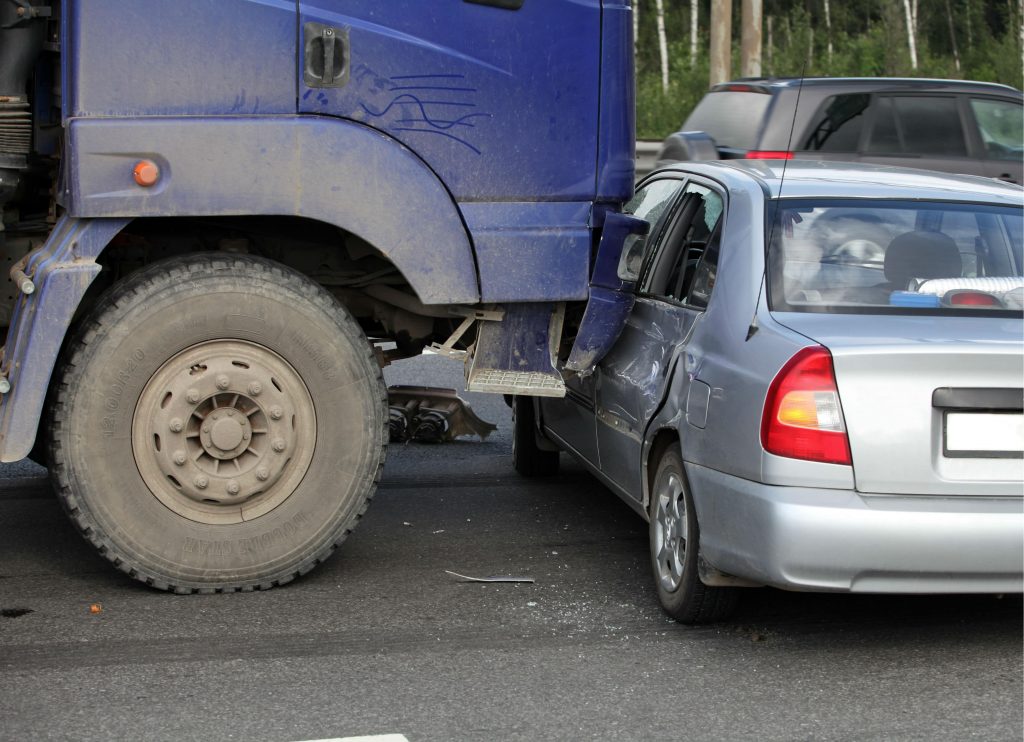 Common Causes of Truck Accidents in New Jersey
According to the American Trucking Association, "over 70% of all the freight tonnage moved in the U.S. goes on trucks." In New Jersey, there are many major highways and interstates where large trucks and buses are present, such as Rt. 80, Rt. 287, Rt. 280, Rt. 78, Rt. 17, Rt. 1&9, and the New Jersey Turnpike. As there are an estimated 12 million commercial motor vehicles (CMVs) on the roads we share, it's important for both the trucker and other vehicles to be alert and safe for one another. Sadly, however, when a passenger vehicle and a large truck are involved in a crash, the injuries to those in the smaller passenger vehicle can be serious, or result in a fatality. These would include Traumatic Brain Injuries, Spinal Cord Injuries and quadriplegia, back and neck injuries, Severe Burns, Amputations, or Wrongful Death.
The size of large trucks can be massive. Whether they are tractor trailers, 18-wheelers, semi-tractor trailers, double-tractor trailers, buses, or other heavy vehicles, they can weigh between 10,000 pounds to 80,000 pounds gross vehicle weight (fully loaded). Their weight alone can be one of the contributing factors in truck accidents, which often result in multi-vehicle crashes and rollovers. According to data released by the National Highway Traffic Safety Administration (NHTSA), there were "4,317 fatalities last year in crashes involving large trucks, which is 5.4% higher when compared to 2015 and is also the highest level of large truck crash deaths since 2007. Of those 4,317 fatalities, 722 or 16.7% were "occupants" of large trucks – which is up 8.6% from 665 deaths in 2016, NHTSA noted – with 10.8% "non-occupants" and 72.4% occupants of other vehicles."
Common Causes of Truck Accidents
Common causes of large truck accidents include speeding, distracted driving (e.g., texting while driving), drunk driving, or hazardous driving due to a lack of sleep. The Federal Motor Carrier Safety Administration (FMCSA) mandates in its regulations that truck drivers follow specific guidelines related to the number of hours they are allowed to drive, ensuring truck drivers are not fatigued. Training and obtaining the appropriate qualifications are also important before a company allows its driver to operate a big rig.
The FMCSA recommends some common sense safety measures for passenger vehicles to practice when driving near and around large trucks, such as:
Stay out of a large truck's blind spot – otherwise, they may not see you when they change lanes or turn
Pass safely, making sure the truck or bus is visible in your rearview mirror before you pull in front of it; never cutoff a truck or bus.
Never tailgate
Should you or a loved one suffer a serious injury, or fatality from a New Jersey truck accident, it is important to obtain legal guidance quickly to ensure your rights are protected. The experienced New Jersey Truck Accident Lawyers at the Todd J. Leonard Law Firm will hold the responsible parties accountable, including the trucking company, driver, and any other parties. We will conduct a complete and thorough evaluation of your accident. Our team of New Jersey Personal Injury Lawyers will review the circumstances surrounding your crash, including obtaining all police reports, photographs from the accident scene, witness statements and, if necessary, hire accident reconstruction experts to determine who was at fault.
Our New Jersey Personal Injury Attorneys have over 25 years of experience handling all types of serious injury claims, and New Jersey Wrongful Death lawsuits. We have been privileged to represent thousands of clients throughout New Jersey. Todd J. Leonard is Certified by the Supreme Court of New Jersey as a Certified Civil Trial Attorney, and has devoted his entire career to fighting for his clients' rights. New Jersey has a two-year statute of limitations time limit, whereby a person can bring an injury lawsuit, so it is important to contact us now to protect your legal rights.
Contact Us Now for a Free Consultation
If you or a family member have been injured, or lost a loved one, in a New Jersey truck accident, it is important to protect your rights. Contact us today for a free consultation at (973) 920-7900. There is never a fee unless you win. The Todd J. Leonard Law Firm has four convenient locations, including in Morris County, New Jersey – Denville (our main office), and Morristown, as well as offices in Newark and Woodbridge. Let us fight to obtain the justice you deserve!