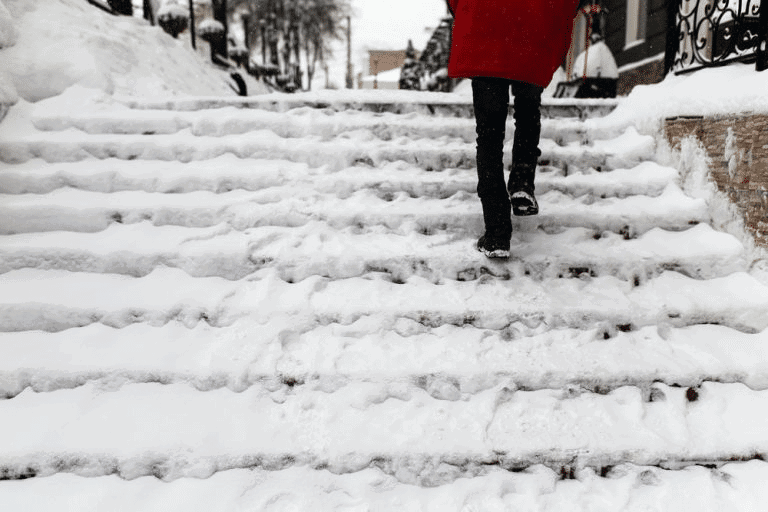 Slip & Fall Accidents during Winter in New Jersey
Slip and Fall Accident at Your Rental Apartment or Home
In New Jersey, each winter, renters are involved in slip and fall accidents; often on steps that did not have snow or ice properly removed in a timely matter, or in their parking lots, walkways or sidewalks, due to the contractor or property management not properly removing the ice/snow. Landlords have a "duty of care" to ensure safe ingress and egress to your rental apartment or home. It is your landlord's responsibility to take reasonable steps to ensure their premises are safe. If the property owner, landlord, or their contractors knew, or should have known, that an unsafe condition existed, such as poor drainage or snow and/or ice on the walkway, yet did nothing to address the slippery conditions, they may be liable.
Slip and Fall Accidents at a Business
Commercial properties also have a duty to ensure the safety of customers that enter / leave their establishments. This includes the walkways, parking lots, and entranceways customers use to enter and leave their businesses. Examples include shopping malls, convenience stores, hotels, and other types of business establishments who are responsible for their customers' safety during their visit. If a customer is seriously injured in a slip and fall, or trip and fall, accident, they can make a claim for their injuries. Often property owners use outside contractors to clear the snow and ice but it is not done properly or timely.
Common types of Hazards during Wintertime
-the parking lot's snow and/or ice was not properly removed
-the steps leading up to the apartment or business were not cleared of snow/ice
-the entranceway to the store was slippery due to customers tracking in snow to their business, creating a safety hazard due to wet floors
-slippery conditions on floors, steps, walkways, or parking lots
– Poor drainage creating icy and dangerous conditions
Property managers (landlords) or businesses are liable for the premises under their control. If you were seriously injured in a slip and fall accident, and the accident was due to another's negligence, you should ensure your rights are protected, and speak to a personal injury attorney.
Typical Injuries from Slip and Fall Accidents
Neck and back injuries, including disc herniations
Head Trauma
Ankle injuries, including dislocations, bimalleolar and tri-malleolar fractures
Lisfranc fracture 
Contact the Todd J. Leonard Law Firm
If you are seriously injured in a slip and fall on snow or ice accident in New Jersey, you may be looking for guidance and someone to help. Our experienced New Jersey Slip and Fall Accident Lawyers can offer you the advice you can trust and need, and ensure your rights are protected. New Jersey has a two-year statute of limitations time limit, whereby a person can bring an injury lawsuit. Therefore, if you think you have a claim against your landlord, property owner, a commercial business, and/or its snow removal contractor, and believe they did not maintain their premises in a safe manner, you should contact our New Jersey Slip and Fall Accident attorneys now. We will thoroughly investigate your accident and hold the responsible parties fully accountable for all of your injuries and losses.
The Todd J. Leonard Law Firm has over 30 years of experience handling all types of personal injury claims, including Slip and Fall accidents throughout New Jersey. Todd J. Leonard is Certified by the Supreme Court of New Jersey as a Certified Civil Trial Attorney. We have recovered millions of dollars in compensation for our clients. Please give us a call today at (973) 920-7900 to request a Free Confidential Consultation. There is never a fee unless you win. We have offices conveniently located in Denville and Morristown.