May is Motorcycle Safety Awareness Month in New Jersey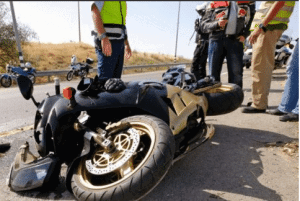 Warmer weather in New Jersey means more motorcyclists are out on the roads and highways. As May is Motorcycle Safety Awareness Month, the National Safety Council reminds us "When spring is in the air, motorcycles are everywhere." New Jersey is the most densely populated state, and its drivers experience some of the worst traffic congestion in the country. Given this traffic congestion and the increase in distracted driving, it is vitally important that both motorcyclists and car / truck drivers be on the alert for each other.
Unfortunately, the statistics on motorcycle accidents reveal some alarming and dangerous facts. According to the National Highway & Transportation Safety Administration (NHTSA), motorcyclists are 29 times more likely than passenger car occupants to die in a motor vehicle crash, and 5 times more likely to be injured. Motorcycle crashes often occur in these scenarios: when the vehicle's driver does not see the motorcyclist (e.g., the motorcycle was in the vehicle driver's "blind spot"); when excessive speed was a factor, or when alcohol was involved. Another very dangerous practice is "lane splitting," which refers to a motorcyclist riding between lanes of traffic, in order to pass slower-moving cars and trucks. Studies have shown that most motorcyclists have no formal training. Safety measures include wearing your helmet at all times (it's the law!) and protective clothing, as well as taking a defensive driving course, complying with all licensing requirements, and obeying all traffic laws.
The data clearly confirms motorcycle accidents involve injuries that are more severe than when driving a car or truck, and sadly, in certain instances, result in the motorcyclist being killed. The obvious lack of protection compared to that afforded the driver of a car or truck contributes to serious injuries and fatal accidents. Additionally, the resultant medical bills can be significantly higher than other types of accident cases.
The experienced New Jersey Motorcycle Accident Lawyers at the Todd J. Leonard Law Firm will conduct a complete and thorough evaluation of the accident by obtaining all police reports, photographs from the accident scene, and hire accident reconstruction experts, if necessary, to determine who was at fault.
Our New Jersey Personal Injury Attorneys have over 25 years of experience handling serious injury claims for thousands of clients throughout New Jersey. Todd J. Leonard is Certified by the Supreme Court of New Jersey as a Certified Civil Trial Attorney, and has devoted his entire career to fighting for his clients' rights. Our firm passionately represents our clients who have been injured, and treats them like family. They will work tirelessly to get you the maximum compensation for your injuries.
New Jersey has a two-year statute of limitations time limit, whereby a person can bring an injury lawsuit, so it is important to contact us now to protect your legal rights.
Contact Us Now for a Free Consultation
If you or a family member have been injured, or lost a loved one, in a New Jersey motorcycle accident, it is important to know your rights. Contact us today for a free consultation at (973) 920-7900. There is never a fee unless you win. The Todd J. Leonard Law Firm has four convenient locations, including in Morris County, New Jersey – Denville (our main office), and Morristown, as well as offices in Newark and Woodbridge. Put our experience and proven results to work for you now.