Truck Accidents can be Deadly in New Jersey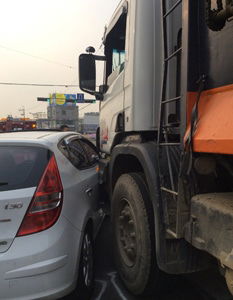 The statistics on large trucks (trucks that weigh more than 10,000 pounds) involved in accidents with passenger vehicles are alarming. In New Jersey and across the nation, if you or a loved one are in a passenger vehicle and have an accident with a truck (also referred to as an 18-wheeler, tractor-trailer, semi-truck, etc.), the odds are very much against the driver of the passenger vehicle. According to the Insurance Institute for Highway Safety, in 2015, 3,852 people died in large truck accidents, with the trend moving higher each year since 2011.
"Ninety-seven percent of vehicle occupants killed in two-vehicle crashes involving a passenger vehicle and a large truck in 2015 were occupants of the passenger vehicles." Indeed, according to the Federal Motor Carrier Safety Administration, the government agency charged with regulating the trucking industry, between 2014 and 2015, there was an 8 percent rise in the number of large trucks involved in fatal accidents around the country. Contributing factors in these accidents include truckers who are fatigued, speeding, or not properly trained.
Large trucks typically weigh 20-30 times more than a passenger car or SUV (up to 80,000 pounds when fully loaded), and, therefore, are difficult to control and slow down quickly. Hence, when trucks collide with much lighter passenger vehicles, they often result in horrific crashes, and can involve multiple vehicles, and even rollovers. Truck accidents can cause serious, permanent or catastrophic injuries, including:
Should you or a loved one suffer a serious injury, or fatality from a truck accident, it is important to obtain legal guidance quickly to ensure your rights are protected. Often, when you are bringing a claim against the party that caused the accident, you may not be certain who to contact, or where to turn during these difficult times. The experienced New Jersey Truck Accident Lawyers at the Todd J. Leonard Law Firm will hold the responsible parties accountable, including the trucking company, driver, and any other parties. We will conduct a complete and thorough evaluation of your accident. Our team of New Jersey Personal Injury Lawyers will review the circumstances surrounding your car crash, including obtaining all police reports, photographs from the accident scene, witness statements and, if necessary, hire accident reconstruction experts to determine who was at fault.
Our New Jersey Personal Injury Attorneys have over 25 years of experience handling all types of serious injury claims, and have been privileged to represent thousands of clients throughout New Jersey. Todd J. Leonard is Certified by the Supreme Court of New Jersey as a Certified Civil Trial Attorney, and has devoted his entire career to fighting for his clients' rights. Our firm passionately represents our clients who have been injured, or lost a loved one, and treats them like family. They will work tirelessly to get you the maximum compensation for your injuries.
New Jersey has a two-year statute of limitations time limit, whereby a person can bring an injury lawsuit, so it is important to contact us now to protect your legal rights.
Contact Us Now for a Free Consultation
If you or a family member have been injured, or lost a loved one, in a New Jersey truck accident, it is important to protect your rights. Contact us today for a free consultation at (973) 920-7900. There is never a fee unless you win. The Todd J. Leonard Law Firm has four convenient locations, including in Morris County, New Jersey – Denville (our main office), and Morristown, as well as offices in Newark and Woodbridge. Let us fight to obtain the justice you deserve!