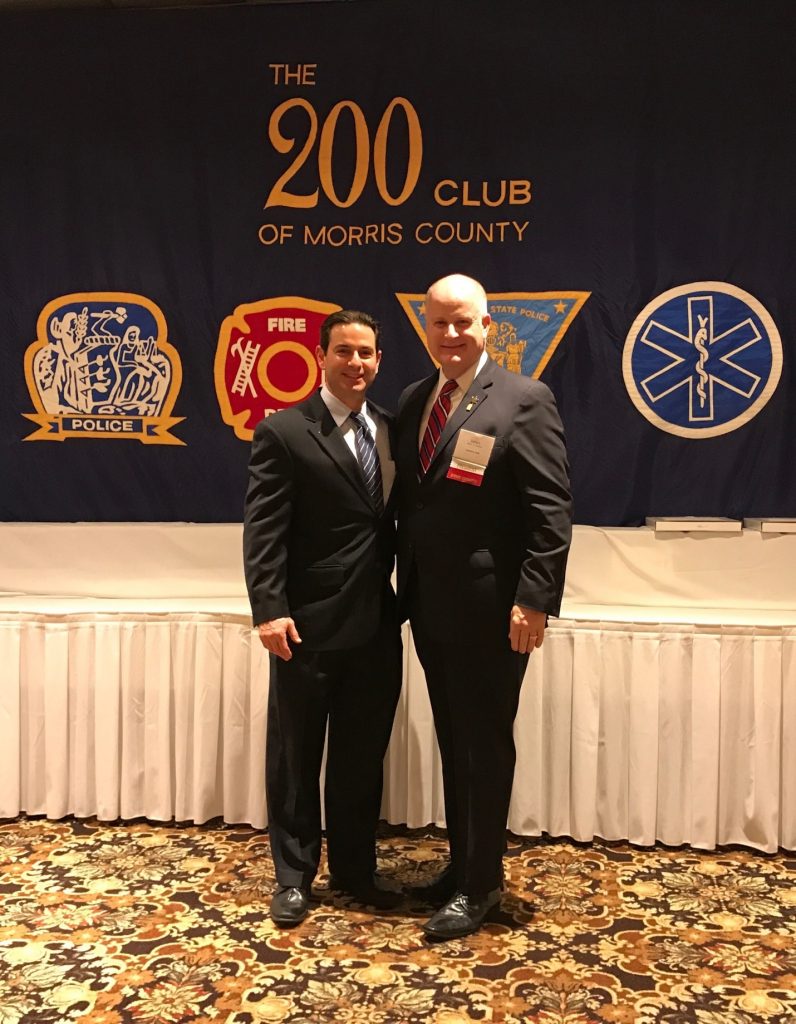 2017 Sponsor of 200 Club of Morris County
The Todd J. Leonard Law Firm is proud to announce its Platinum Sponsorship of the 200 Club of Morris County, New Jersey. The 200 Club, founded in 1971, is an organization that honors and supports Morris County Police Officers, Fire Fighters, First Aid Squad members, and the New Jersey State Police, and their families, including those who have lost their lives in the line of duty. They annually recognize those who have demonstrated meritorious service or valor while in the line of duty.
This year, members of our firm were privileged to attend The 200 Club's 45th Valor and Meritorious Service Awards Dinner, held at the Birchwood Manor in Whippany, NJ. James Gannon, Morris County Sherriff, who is the President of The 200 Club, led this year's celebration (pictured here with Todd J. Leonard) to recognize all the brave men and women who in the past year demonstrated acts of valor and courage.
Additionally, The 200 Club has a Scholarship fund, which began in 1982. A $5,000 scholarship is awarded to graduating high school seniors. This year, 20 students demonstrated superb academic achievement in their studies, while also performing local community service. They will all be recognized on May 15, 2017, at the 200 Club's annual Scholarship Awards ceremony in Mountain Lakes, New Jersey. The scholarship is open to children with a parent actively serving with or retired from a Morris County police department, fire department, ambulance squad, the New Jersey State Police, paramedics with a Morris County-based hospital, or other eligible branches.
Our Morris County personal injury law firm feels strongly that we owe a huge debt of gratitude for their outstanding commitment to the communities they serve. Congratulations to this year's heroes for their tremendous service, courage, and valor!