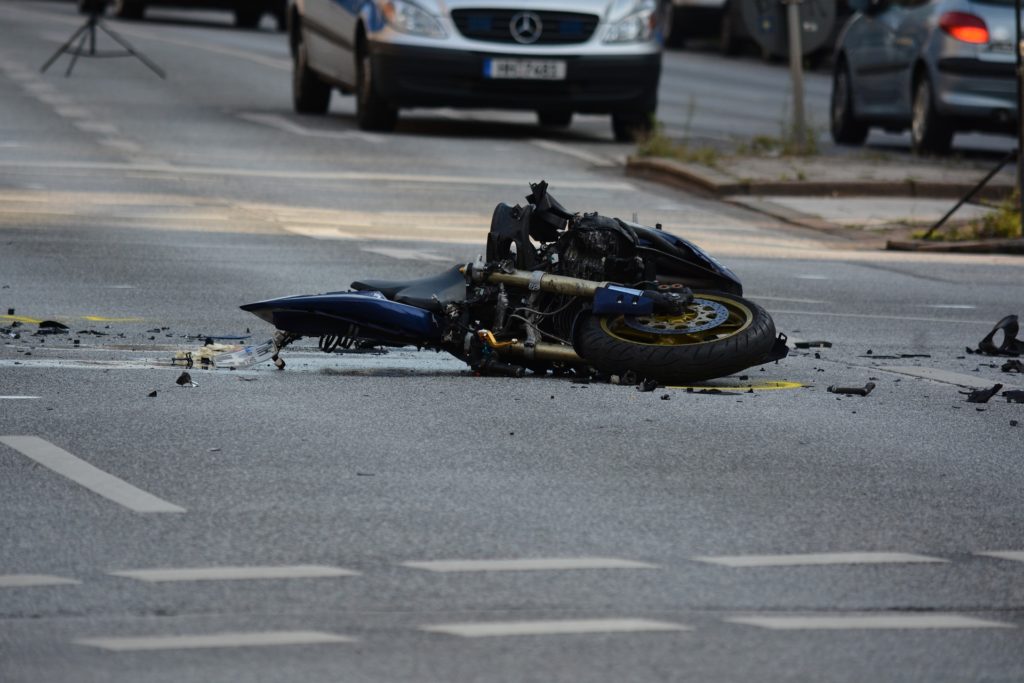 What To Do If You Have Been Hit By A Car As A Motorcyclist In New Jersey
The moments after a motorcycle accident can be shocking and overwhelming. If you have been seriously injured in a New Jersey motorcycle accident after being hit by a car or truck, your primary concern should be your health and safety. However, you should also consider the long-term impacts that the accident, and injuries you sustained, can have on your life.
 
In the aftermath of a motorcycle accident, it may be hard to know what to do next. Below is a list of steps to take after a motorcycle accident.
 
Report the Collision
 
After being hit by a car or truck on a motorcycle, the first thing to do is to report the accident. Typically, this involves calling 911; however, you can also call the local police or sheriff's department. When you report the accident, the dispatcher will send police officers and emergency responders to the scene. Police officers will prepare an accident report and begin an investigation into the cause of the accident. Emergency responders will check you out to see if you need any lifesaving medical treatment.
 
Gather Any Available Evidence
 
Motorcycle accidents tend to be serious, so you may not be in a position to investigate the accident. However, if you can, obtain any evidence from the scene. This can help you prove a personal injury lawsuit if you choose to file one. For example, if you have a cell phone, take pictures of your motorcycle, the car that hit you, and any street signs or lane markings in the area. You can also look around to see if any surveillance cameras may have caught the accident on tape. If there are any witnesses of the accident, ask for their names and contact information and provide it to your attorney.
 
Get the Appropriate Medical Care
 
Some motorcycle accidents cause immediately visible injuries; however, that is not always the case. Many injuries, such as brain damage, back and disc injuries, and soft-tissue injuries, may not be readily apparent. While paramedics will provide you with emergency care, they cannot recognize every type of injury. So, it is imperative that you either go to the emergency room, an urgent care facility or make an appointment with your primary care doctor as soon as possible to assess your injuries and develop a treatment plan properly.
 
Be Careful Who You Talk To
 
After an accident, you will want to report the collision to your insurance company. The at-fault driver's insurance company may also contact you. It is crucial that you answer their questions truthfully to your insurance company. You do not have to speak with the defendant's insurance company since their interests are not the same as yours. If you decide to discuss your case with them, you should be very cautious about what you say and briefly answer their questions. Anything you say to an insurance company representative can be used against you.
 
Similarly, you should be aware of what you post on social media. The insurance company will be looking for any way to avoid paying out on your claim. If you make inflammatory or contradictory social media posts, these can come back to impeach your credibility.
 
Reach Out to an Experienced New Jersey Motorcycle Accident Lawyer
 
When you are ready, the next step is to contact an experienced New Jersey personal injury attorney to discuss your case. While there is no law requiring you to have an attorney to bring a case against an at-fault driver, working with an attorney will make the process smoother for you and increase your chances of getting the compensation you deserve. Most motorcycle accident lawyers provide prospective clients with a free consultation and take cases on a contingency basis, meaning you will not pay anything unless they win your case.
 
Contact the New Jersey Motorcycle Accident Attorneys at the Todd J. Leonard Law Firm
 
If you or a loved one were seriously injured by being hit by a car or truck while riding a motorcycle, or sadly, died in a New Jersey motorcycle accident, please contact the dedicated personal injury lawyers at the Todd J. Leonard Law Firm. For more than 30 years, we have been helping our clients seriously injured following all types of accidents and will do our best to hold the negligent drivers fully accountable for their actions, recovering a total of more than $100 million on behalf of our clients. We recognize the challenges you face as a result of a serious motor vehicle crash and are uniquely positioned to help you through the recovery process. To learn more and to schedule a free consultation, give us a call today at 973-920-7900. You can also connect with us through our online form. There is never a fee unless we win your case. We have two conveniently located offices in Denville and Morristown.