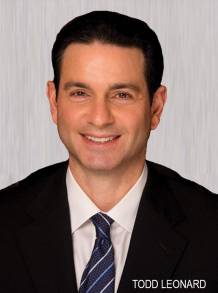 Todd J. Leonard Recertified as a New Jersey Civil Trial Attorney
The Todd J. Leonard Law Firm is proud to announce that, founding partner, Todd J. Leonard has been recertified as a civil trial attorney. For an attorney to become recertified, they must meet the New Jersey Supreme Court's Civil Certification Committee's requirements, which confirms Mr. Leonard's "substantial involvement in civil trial litigation" and that he "possesses the requisite level of knowledge, experience, and skill" to fulfill the necessary criteria. Only 3% of the attorneys in New Jersey are Certified.
For over 30 years, Todd Leonard has been helping his clients and their families after they have been seriously injured in an accident, or worse, lost a loved one in a fatal accident. Todd has over three decades of experience providing quality personal injury representation throughout New Jersey, and has helped thousands of his clients and their families. He has been privileged to help his clients obtain the compensation they deserve, recovering over $60 million on their behalf.
The Board on Attorney Certification was established by the Supreme Court of New Jersey in 1980 for the purpose of helping consumers find attorneys who have a recognized level of competence in particular fields of law. The Supreme Court, through recommendation by the Board, certifies attorneys in five areas: civil trial law, criminal trial law, matrimonial law, municipal court law, and workers' compensation law.
An attorney must meet the following requirements to become certified: has been a member in good standing of the New Jersey Bar for at least five years; has taken a specific number of continuing legal education courses in the three years prior to filing an application; demonstrates substantial involvement in preparation of litigated matters; demonstrates an unblemished reputation by submitting a list of attorneys and judges who will attest to the applicant's character and ability; and passes a written examination covering various aspects of practice in the designated specialty.
"It's a great honor to be recertified by the New Jersey Supreme Court as a Civil Trial Attorney. I have dedicated my entire working life to helping my clients," Leonard said.
Todd was also selected by his peers to the list of New Jersey Super Lawyers® in 2011, 2013, 2014, 2015, 2016, 2017, 2018 and 2019, as well the National Trial Lawyers list of "Top 100 Trial Lawyers" for New Jersey in 2013, 2014, 2015, 2016, 2017 and 2018. Todd also serves on the Board of Trustees for TANJ (Trial Attorneys of New Jersey), which is comprised of some of the best trial lawyers in the State of New Jersey.
Todd takes great pride in helping his clients when they need him the most, and is relentless in his pursuit of justice. He also recognizes the importance of giving back to the community, and supports numerous charitable organizations, local sports programs, as well as law enforcement.
Get a Free Case Evaluation from Todd J. Leonard and Our Team of Experienced New Jersey Personal Injury Lawyers
The New Jersey Personal Injury Attorneys at the Todd J. Leonard Law Firm have over 30 years of experience you can trust. They have represented thousands of clients throughout New Jersey, and have recovered millions of dollars in compensation for their clients. Please give us a call today at (973) 920-7900 to request a Free Confidential Consultation. There is never a fee unless you win. We have offices conveniently located in Denville, Morristown, Woodbridge, and Newark.