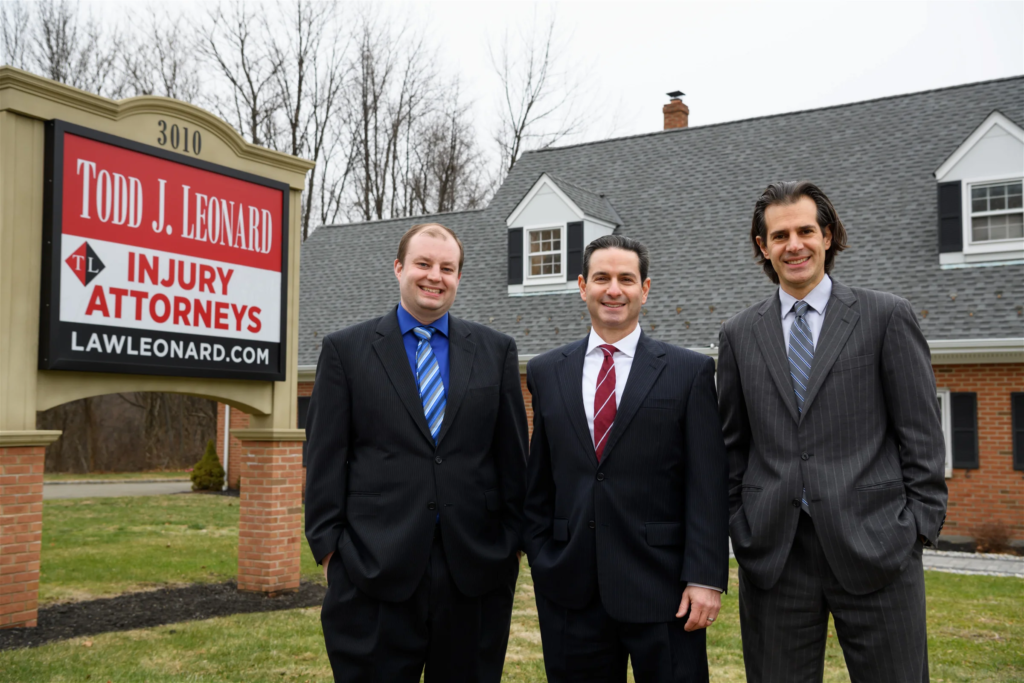 Todd J. Leonard Law Firm Settles Drunk Driving Case for $1,245,000
Founding Partner, Todd Leonard, and litigation associate Matthew Sheffield, Esq., are proud to announce the recent settlement of their client's car accident case for $1,245,000. Our client, a woman in her 30's, sustained serious back and neck injuries when a drunk driver crashed into her car, then fled the scene.  The drunk driver was eventually identified and charged. She required multiple pain management procedures and underwent a lumbar spine fusion surgery.  
Driving a vehicle while drunk, or under the influence of drugs, is a dangerous crime.  Last month, New Jersey's Division of Highway Traffic Safety campaign – "Drive Sober or Get Pulled Over" – concluded. This initiative was part of a nationwide effort to "reduce crash risks and raise awareness about impaired driving during the final stretch of the summer season." It is designed to help prevent and deter drunk driving. Police agencies across the state were funded to provide enhanced patrols and high-visibility sobriety checkpoints. Those found guilty faced fines of up to $10,000, along with civil and criminal liability.
Every day, about 37 people die in the U.S. in drunk driving crashes. Indeed, in 2021, there were 13,384 deaths from drunk driving. When you are driving drunk (DWI/DUI), you not only place yourself in great peril, but also the lives of any of your passengers, and other vehicles, pedestrians, bicyclists, etc. Law enforcement deploys a higher-than-usual presence on NJ highways during the Holidays and summertime.
According to the Centers for Disease Control (CDC), "32 people in the United States are killed every day in crashes involving an alcohol-impaired driver—this is one death every 45 minutes."
In New Jersey, there were 1,459 people who died in car crashes with alcohol-impaired drivers from 2009 to 2018, according to the CDC.
Additionally, a recent New Jersey State Police (NJSP) report noted DWI/DUI drivers are now the leading cause of fatal traffic crashes in New Jersey. The report analyzed fatal collisions in 2021. The NJSP data showed the following:
There were 697 fatalities during 2021. Of the fatalities, 368 were drivers, 86 were passengers, 217 were pedestrians and 26 were pedal cyclists. Of this total, 581 were tested for alcohol and 116 were not tested. Of the 581 tested, 207 were positive for alcohol in varying degrees and 374 were negative. This indicates that 35.6 % of the fatalities tested were positive for alcohol and 64.4 % were negative. 150 drivers, 22 passengers, 71 pedestrians and 6 pedalcyclists tested positive for drugs. In 210 of the 667 crashes, Driving While Intoxicated (alcohol and/or drugs) was listed as the contributing factor. There were 228 people killed as a result of these 210 crashes.
New Jersey's Dram Shop Law
If someone is visibly intoxicated at a bar, yet the bar continues to serve that person, and thereafter, causes an injury to another because they are drunk, the Dram Shop law can be explored for a cause of action against the bar; specifically, New Jersey's dram shop law states that any person who has been injured by an intoxicated individual can seek damages from the vendor who served the alcohol if:
The intoxicated individual was "visibly intoxicated" when served, or the vendor knew, or reasonably should have known, the person being served was under age 21.
Social Host Liability in New Jersey
Similarly, if someone was at a private party, and an intoxicated person goes on to cause an alcohol-related accident, a cause of action can be taken against the party host; specifically, New Jersey law allows an injured person to seek damages from any social host who provided alcohol to a visibly intoxicated person of lawful drinking age (at a party or similar event) when that guest goes on to cause an alcohol-related accident. To make a successful claim, the injured party generally must prove:
The person who caused the injuries was visibly intoxicated in the presence of the host, or
The circumstances created an "unreasonable risk" of harm to life or property, and
The injury resulted from a motor vehicle accident caused by the intoxicated person who was served by the social host.
The social host liability law provides that there is an irrebuttable presumption that the guest who caused injuries was not visibly intoxicated if a chemical test shows a blood alcohol concentration (BAC) of less than .10%. And, if the guest had a BAC of at least .10% but less than .15%, there is a rebuttable presumption that the guest was not visibly intoxicated.
If you were seriously injured due to a drunk driver, or sadly, lost a loved one, contact the Todd J. Leonard Law Firm immediately to ensure your rights are protected, and discuss how to file a personal injury lawsuit or a wrongful death claim.  
Contact an Experienced New Jersey Drunk Driving Accident Injury Lawyer Now!
Our law firm has over 30 years of experience handling drunk driving cases. If you suffered a serious injury in a New Jersey car accident involving a drunk driver, or sadly, lost or a loved one, due to a drunk driver, the dedicated New Jersey Car Accident Injury Lawyers at the Todd J. Leonard Law Firm are here to help. For more than 30 years, we have been helping clients who have been seriously injured in all types of accidents. We are a five-star rated law firm, recovering a total of more than $100 million on behalf of our clients. We will do our best to hold the negligent driver fully accountable for their actions and get you the justice you deserve.
We recognize the challenges you face as a result of a serious motor vehicle crash and are uniquely positioned to protect your rights and help you through the recovery process. To learn more and to schedule a FREE, confidential consultation, give us a call today at 973-920-7900. You can also connect with us through our online form. There is never a fee unless we win your case.  We have two conveniently located offices in Denville and Morristown, New Jersey.