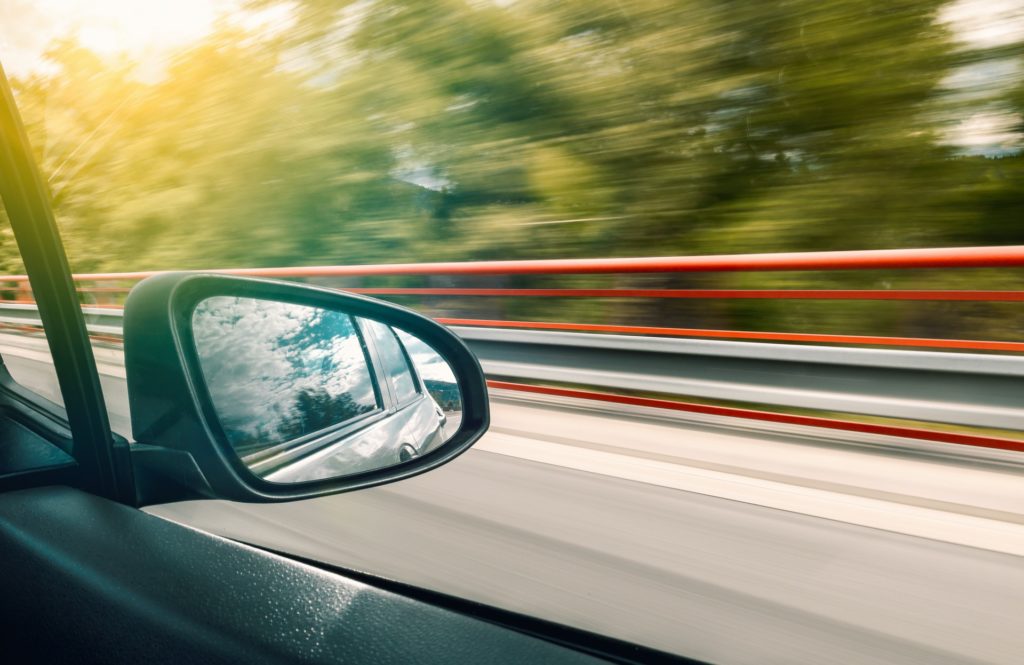 What If My New Jersey Car Accident Was Caused by a Blind Spot?
The idea behind side view and rear-view mirrors is that they help you see more of what is going on around you. While that is true to a certain extent, it does not always work. These mirrors are not 100 percent effective in avoiding car crashes. The mirrors, despite offering a better view of what is going on around your vehicle, create blind spots.
The auto industry responded with side view mirror sensors that alerted the driver there was another car in their blind spot. The sensors did not always work and had trouble registering smaller vehicles, like motorcycles. The National Highway Traffic Safety Administration (NHTSA) says approximately 840,000 blind spot accidents happen every year, resulting in close to 300 deaths. 
What To Do to Increase Visibility While Driving in New Jersey
One of the most effective ways to increase driving visibility in New Jersey is to adjust the side and rear-view mirrors. Make sure that your field of vision is broad enough to see parts of vehicles on either side of you. It takes time to properly adjust your mirrors to expand your range of vision, but it can mean not being involved in a crash. Adjust the mirrors while you are not driving. Have someone help you capture your field of vision.
Even with side-view mirrors, a lot of drivers do not check their surroundings manually by turning their heads and looking. Do both to help avoid blind-spot accidents. A fast-moving car to your left or right could mean you miss seeing it come alongside you. If you change lanes without manually looking, you could cause an accident. 
In conjunction with using side mirrors and periodic head checks, using turn signals to indicate your intentions to change lanes helps notify other drivers. If another driver is paying attention, they will understand you are changing lanes and that they need to slow down accordingly. Other drivers can honk their horn to alert you to not change lanes because they are right next to you.
Try to stay out of other drivers' blind spots. If you cannot see the other driver through their mirrors, it's a good bet they cannot see you. That said, sometimes accidents happen no matter how careful you may be. 
The Mechanics Behind a Blind-Spot Accident
What causes a blind spot collision? This is due to the vertical pillars connected to the vehicle's windows. If the driver does not check them when attempting to merge or change lanes, a sideswipe or rear-end collision can occur. Blind spots on big rigs are particularly dangerous as the driver cannot see anyone in them. 
Blind spots are not always the result of the vertical pillars. They can also happen because a short driver is not able to see over the steering wheel or a very tall individual is not able to see properly.
Blindspot Collision Liability
This is a very tricky subject. The main reason it is a good idea to retain an experienced New Jersey Car Accident attorney is so that they can help you seek compensation for injuries you may have sustained in a blind-spot collision.
If the vehicle that struck you while they are changing lanes because they did not see your vehicle, often due to your vehicle being in their blind spot, that driver is at-fault.
Proving another driver was negligent is the goal of proving liability for a sideswipe accident to seek compensation for your injury claim. Determining liability for blind spot accidents is often complicated. That is why it's important to speak to an experienced New Jersey Car Accident Lawyer as soon as possible to ensure your rights are protected.
For your Todd J. Leonard Law Firm car accident attorney to build a case for you, it helps to have evidence. That evidence can include:
Clear pictures or videos of the damage to the vehicle. The location of the damage can tell your car accident lawyer who was negligent.
Crash scene videos obtained from surveillance cameras at local businesses, traffic light cameras, or your dashcam or cellphone can be used to determine liability.
Eyewitness reports help put a solid foundation under a claim.
Police reports provide a third-party assessment of the crash, and often detail who was issued a citation, or who was at-fault.
Accident reconstruction can help determine liability.
Always be alert and aware of your surroundings when you are driving. A few extra moments to check your mirrors and manually check beside and behind you may avoid a collision.
Contact the Todd J. Leonard Law Firm to Schedule a Free Consultation Today!
If you have been injured in any type of motor vehicle accident, call us now to discuss your case. We have successfully handled thousands of motor vehicle accidents and ride-share claims. At the Todd J. Leonard Law Firm, we know what it takes to obtain the compensation you need and deserve if you are injured. We offer relentless personal injury representation and work to prove liability and hold those who caused an accident responsible when it comes time to reach a settlement or verdict. 
 
Our New Jersey personal injury attorneys have over 30 years of experience aggressively representing seriously injured clients in all types of accident claims, including those injured at work. We are a Five-Star rated law firm, recovering a total of more than $100 million on behalf of our clients. To learn more and to schedule a FREE consultation, give us a call today at 973-920-7900. You can also connect with us through our online form. There is no risk in calling because we never charge a fee unless we can help you recover compensation for your injuries. We have two conveniently located offices in Denville and Morristown, New Jersey.