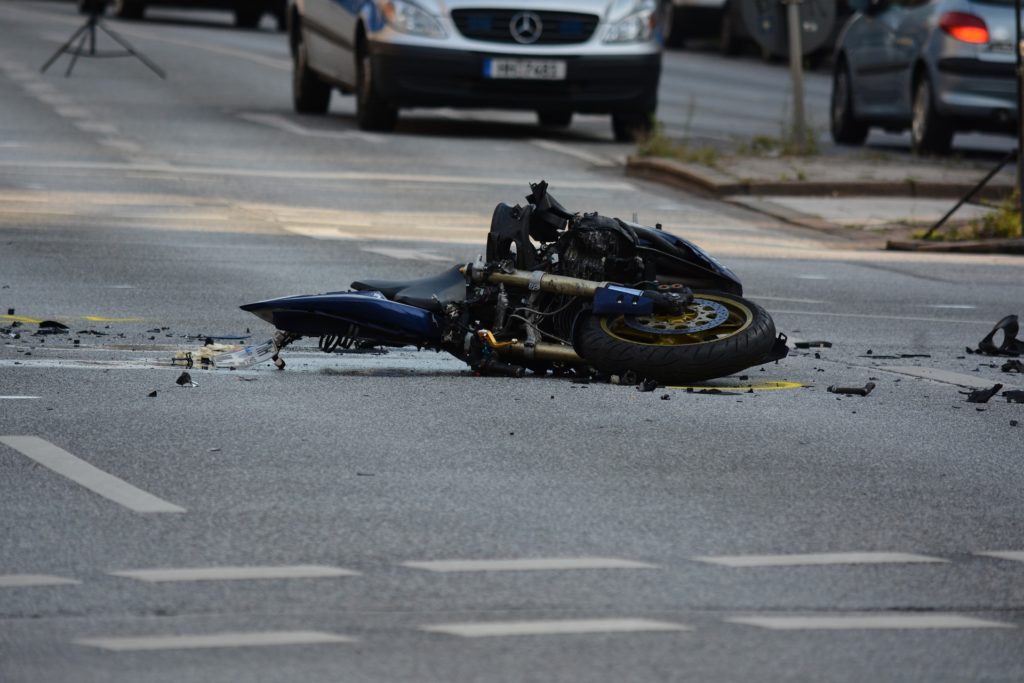 What Are The Types Of Head Injuries You Can Get From A Motorcycle Accident?
Motorcycle crashes are one of the most serious types of motor vehicle accidents. On average, motorcyclists are far more likely to suffer severe injury or even death during an accident when compared to those in cars and trucks. Motorcyclists are often thrown from the bike in an accident. Not surprisingly, head injuries are among the most common types of injury in a motorcycle accident, even among riders wearing a helmet at the time of the accident.
 
Types of Head Injuries in a Motorcycle Accident
 
Given the lack of protection that motorcycles provide to riders, head injuries are common after a motorcycle accident. However, not all head injuries are the same, and an accident victim's prognosis depends on the type of injury and its severity.
 
Medical experts classify head injuries into two broad categories: open head injuries and closed head injuries. An open head injury is one in which an object punctures the skull. These injuries are immediately visible. On the other hand, closed head injuries involve internal damage, typically caused by the brain's contact with the skull. Closed head injuries may initially be challenging to identify without a doctor's diagnosis.
 
Concussions
Concussions are the most common type of motorcycle head injury. A concussion is a type of traumatic brain injury (TBI). A TBI refers to an injury in which a person experiences a blow or jolt to the head, causing the brain to suffer damage when it collides with the inside of the skull. You can suffer a TBI after an open or closed head injury. Thus, just because there is no visible sign of injury does not mean you did not suffer serious brain damage.
 
Hematomas
A hematoma is a collection of blood outside the blood vessels. While hematomas can occur throughout the body, subdural hematomas, or those in the brain, present the greatest risks. A subdural hematoma occurs when a blood vessel between the skull and the brain bursts. Subdural hematomas place increased pressure on the brain and can be life-threatening.
 
Hemorrhage
A hemorrhage is a medical term to describe uncontrolled bleeding. After a motorcycle accident, it is common for a rider's head to come into contact with the pavement or some other hard object. This can cause a subarachnoid hemorrhage, which is a hemorrhage between the brain and its surrounding tissues. Subarachnoid hemorrhages are severe injuries and require immediate medical attention.
 
Skull Fracture
The forces involved in a motorcycle accident are enough to break any bone in the human body. The skull is no exception. Skull fractures often result in brain damage, although that is not always the case.
 
Diffuse Axonal Injury
A diffuse axonal injury is a traumatic brain injury caused when the brain rapidly shifts inside the skull. When this occurs, the connective tissue in the brain, called axons, becomes sheared due to the forces involved in the collision. Many people who suffer a diffuse axonal injury are left in a coma. One aspect of diffuse axonal injuries that makes them especially difficult to treat is that the damage is on a cellular level, which means it will not necessarily show up on MRIs or CT scans.
 
Motorcycle accidents can cause a wide range of life-threatening head injuries, not all of which are immediately apparent. If you were involved in a motorcycle accident, it is crucial that you visit the emergency room or make an appointment with your doctor as soon as possible. Studies have shown that the sooner you seek treatment, the better the outcome you can expect.
 
Contact Our Experienced New Jersey Motorcycle Accident Lawyers for Immediate Assistance
If you or a loved one has recently been injured in a motorcycle crash or lost a loved one, contact one of our dedicated New Jersey motorcycle accident attorneys to discuss your options. Our attorneys provide skillful, zealous advocacy on behalf of our seriously injured accident clients across New Jersey. 
The New Jersey injury attorneys at the Todd J. Leonard Law Firm have over 30 years of experience aggressively representing clients in all types of accidents in various claims. The firm's Founding Partner, Attorney Todd Leonard, has devoted his entire legal career to helping his clients recover the compensation they need and will do their best to get the justice you deserve. To learn more about how we can help you pursue a claim, give us a call today at (973) 920-7900 to request a free, confidential consultation. There is never a fee unless we win your case. We have offices conveniently located in Denville and Morristown.