Todd J. Leonard Coaches Morris County Special Olympics Basketball Team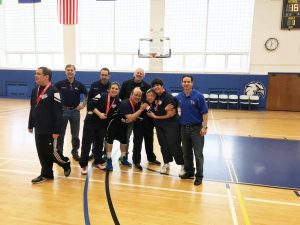 Managing Partner, Todd J. Leonard, Esq., of the Todd J. Leonard Law Firm, has been coaching the Special Olympics Basketball program for Morris County for over 15 years, which is run through the Arc of Morris County, New Jersey ("McArp"). The Special Olympics North Sectional Basketball Tournament was held this past weekend (March 11 – March 12, 2017) at St. Elizabeth's and Fairleigh Dickinson University campuses, and five McArp teams competed (White, Green, Gold, Red and Blue teams). There were over 140 athletes on twenty (20) different teams from various Northern New Jersey counties, including Bergen County, Passaic County, Morris County, Warren County, Essex County, Hudson County, and Sussex County.
EXCITING NEWS! McArp's Green, Gold, and Blue teams are advancing to the State of New Jersey Special Olympics Tournament, which will be held on March 25th and March 26th in Wildwood, New Jersey. Todd coached the Gold team to "Gold," and his Blue team won a Silver Medal and qualified for the State Tournament. Additionally, Henry Enright, the Director of Business Development at the Todd J. Leonard's Law Firm, has been coaching McArp's Special Olympics Basketball for over seven years, and his Green team won the Gold Medal.
Todd has always been proud of these amazing athletes' outstanding play, sportsmanship, and teamwork. Todd welcomes anyone interested in joining this program to contact him to learn more about helping out or joining this wonderful program.