In 2020, the number of traffic fatalities increased by 6.8 percent.
Car Accident Trends Affecting the Roads of New Jersey
In 2020, 5.25 million police-reported crashes involving 6.1 million vehicles caused 2.28 million injuries
nationwide. In New Jersey in the same year, there were 42,791 injuries and 584 fatalities resulting from motor vehicle accidents. New Jersey reported having 6,006,247 registered vehicles and 6,230,912 registered drivers in 2020.
Traffic accident fatalities began steadily decreasing in 1970, but began to tic up again in 2010. This trend continued between 2019 and 2020, despite a decline in overall miles traveled nationwide. In fact, the number of crashes reported in 2020 declined by 22.3 percent from 2019, while the number of traffic fatalities increased by 6.8 percent.
This report will address car accident statistics and trends in New Jersey and nationwide, as data is available.
We take great pride in being there for clients when they need us the most. We will do everything in our power to obtain the BEST possible result for you.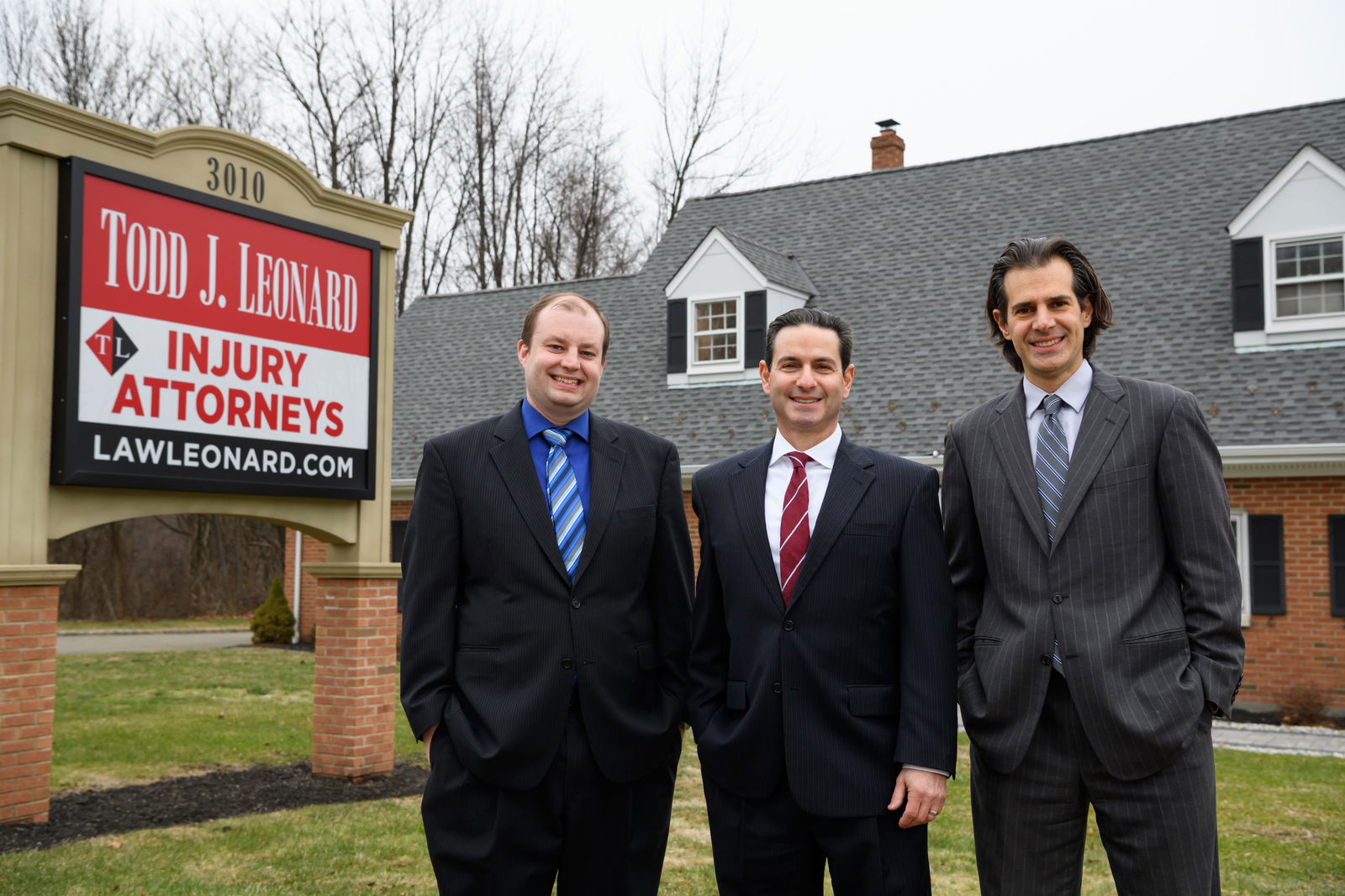 Data Collection
The data used for this report was taken from the National Highway Traffic Safety Administration (NHTSA), the New Jersey Department of Transportation (NJDOT), the New Jersey State Police (NJSP), Governors Highway Safety Association (GHSA), University of Michigan Injury Prevention Center, Insurance Information Institute (III), and the National Safety Council (NSC).
Fatal Accidents in New Jersey
In 2021, New Jersey reported 709 traffic deaths resulting from 673 fatal crashes. This is a 21.4 percent increase over 2020. Among these, 211 pedestrians were killed, which is the highest number of pedestrian fatalities in the state since 1989. 
In 2020, there were 66,341 million vehicle miles traveled on New Jersey roads. During that time, there were 547 fatal crashes and 584 deaths. Out of a population of over 9.27 million, this corresponds to 6.3 deaths per 100,000 people, and .88 deaths per 100 million vehicle miles traveled.  
In Morris County and surrounding counties in northern New Jersey, the driver is the individual who is most likely to die in a fatal crash. Of the 21 motor vehicle fatalities in Morris County in 2022, 62 percent of those killed were drivers. 
Morris County ranks fourth in the number of traffic fatalities among its neighboring counties. Essex County experienced 50 fatalities, followed by Union County with 28, Passaic County with 25, and Morris County with 21.
Following are fatality statistics by county in northern New Jersey:
Fatal Accidents Nationwide
In 2020, 38,824 people died in motor vehicle accidents nationwide. According to preliminary statistics from the National Highway Traffic Safety Administration, 42,915 people died in car accidents in 2021. This represents a 10.5 percent increase over 2020 and is the largest annual increase since the Fatality Analysis Reporting System began collecting data.
The following types of accidents saw relatively large increases in fatalities in 2021, as compared to 2020:
According to the NHTSA, every day in 2020 in the U.S. there were 14,386 car accidents.
The U.S Department of Transportation (USDOT) refers to the cause of a traffic accident as the critical reason for the crash. While several factors may converge to cause an accident, the critical reason is the final failure in the events leading to the crash and is therefore listed as the cause of the accident.
Driver error is consistently the most common cause of accidents in New Jersey and nationwide. The USDOT estimates that 90 percent or more of all vehicle accidents are caused by driver error.
Speeding, distracted driving, fatigued driving, and impaired driving are key types of driver errors that occur prior to car accidents. Distracted driving is any behavior that takes attention away from the road, such as using a cell phone, eating, drinking, putting on makeup, reading maps, using a GPS, watching videos or interacting with car controls. According to NHTSA statistics:
Speeding is the primary cause of 28 percent of fatal crashes and 13 percent of injury crashes

In 2020,

speeding killed 11,258 people nationwide

Distracted driving is the primary cause in 8 percent of fatal crashes and 14 percent of injury crashes
According to the Center for Disease Control (CDC) 400,000 people are injured every year in distracted driving accidents
Drunk driving, as measured by a Blood Alcohol Concentration (BAC) of .08 g/dL or higher, was the primary cause for 30 percent of fatal accidents
The number of speeding-related fatalities in 2020 increased by 17 percent from 2019, from 9,592 to 11,258.
In New Jersey, 24.3 percent, or 142 fatalities, were precipitated by speeding.
In New Jersey, 26 percent of fatalities were caused by drunk driving.
Most car accidents in the U.S. occur when one vehicle collides with another motor vehicle in transport. This is true for injury crashes, fatal crashes, and property-damage-only crashes.
Passenger cars or light trucks were the primary types of vehicles involved in crashes. In 2020, 93 percent of vehicles in crashes were passenger cars or light trucks.
The front of the car is the initial point of impact for 77 percent of car accidents. Side impact collisions account for 11.8 percent of crashes and rear-end collisions 5.5 percent. 
Side-impact accidents can be more dangerous than either front/head-on collisions, or rear-end impact crashes according to University of Michigan research. They may be more serious because a vehicle's flanks do not have as much material to absorb the shock of impact.
Most crashes, 53.7 percent, happen when the driver is going straight.
Accidents involving turns constitute 14.4 percent of accidents.
Accidents where a vehicle is stopped on the road are 10.7 percent. 
Roughly one third of rural accidents happen at intersections, and just under 50 percent of all urban crashes happen in intersections.
Cellphone Use in New Jersey
A study by the Virginia Tech Transportation Institute discovered the risk of causing a collision when driving while texting is 23 times greater than the risk when not driving while texting. Texting while driving and/or speeding or DUI/DWI escalates the risk of a crash. The New Jersey Department of Transportation (NJDOT) revealed mobile phone use was cited as the cause of 1,001 wrecks in 2019.
According to the Governors Highway Safety Association, texting behind the wheel is more likely to increase the risk of an accident than regular mobile phone use. This is because texting means looking away from the road for at least 4.6 seconds. A person could drive the length of a full football field in that period.
New Jersey bans texting by all drivers. Under state law, drivers must use hands-free devices when talking on cell phones in the car. Drivers under age 21 with learner's permits/probationary licenses may not use ANY cell phone while behind the wheel.
New Jersey drivers using a hand-held cell phone while driving face a fine of up to $400 for a first offense and $600 on a second offense. For third and subsequent offenses, a driver could be fined up to $800, lose driving privileges for 90 days and receive three license points.
New Jersey driver who causes an accident driving while distracted that results in death or serious harm can be prosecuted and face prison time, with fines up to $150,000, pursuant to N.J.S.A. Section 39:4-97.3.
Every year, the "National Distracted Driving Awareness Month" comes to New Jersey in the form of the state's "U Drive. U Text. U Pay" initiative to remind drivers to put their phones down behind the wheel. For the entire month of April, law enforcement has an increased presence in identifying those drivers who are driving while texting/driving while distracted.
New Jersey Single-Vehicle Crashes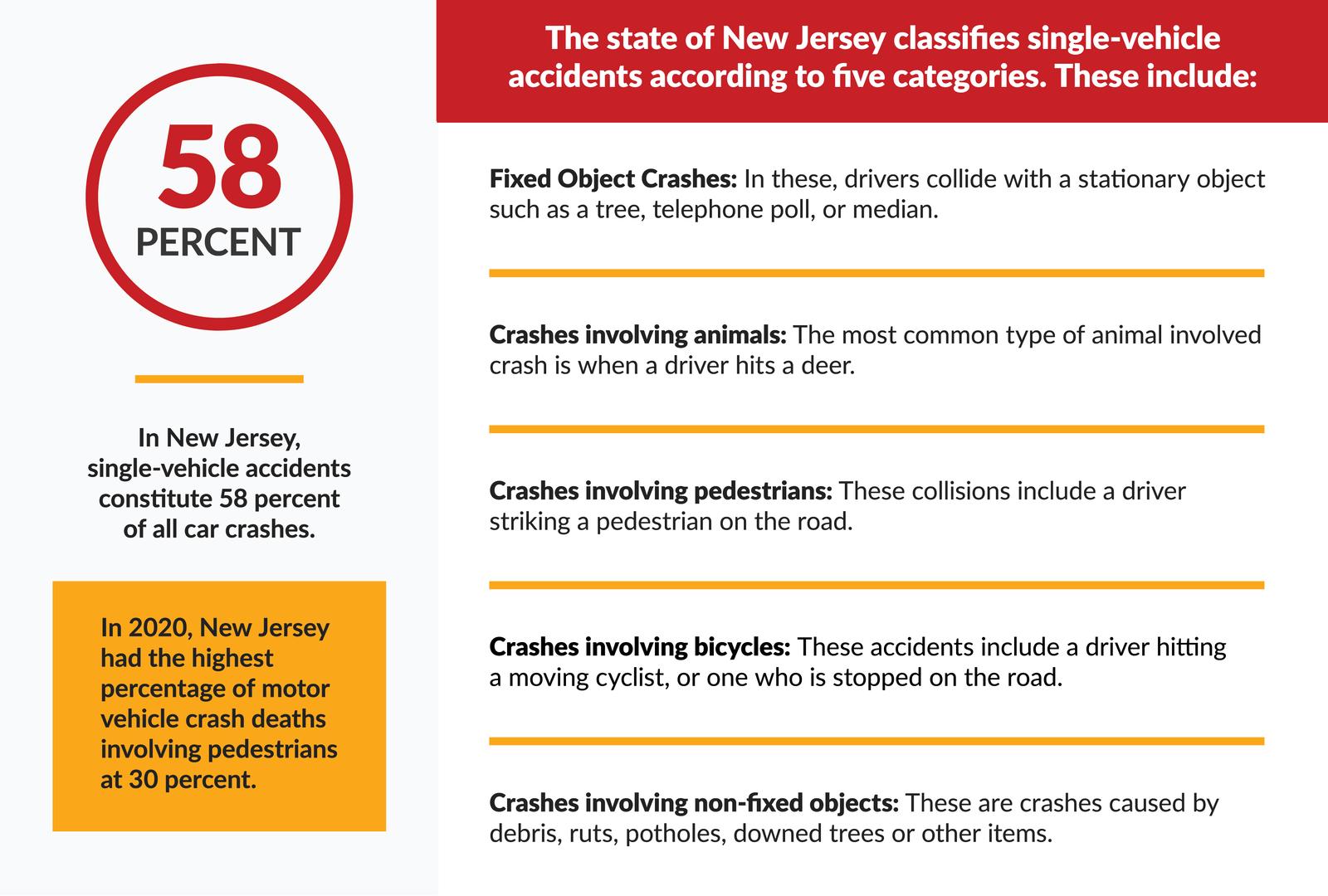 In New Jersey, the driver is responsible for a single-car crash, and any injured passenger(s) can take legal action against the driver by filing a personal injury lawsuit. New Jersey is a no-fault insurance state, which means car accident survivors must file a claim for the crash under their own car insurance policy.
Common Injuries in New Jersey Car Accidents
Serious injuries injuries from being involved in a collision include:
Herniated Discs in Neck or Back
Contact Our Experienced New Jersey Car Accident Lawyers for Immediate Assistance!
If you suffered a serious injury in a New Jersey car accident, or sadly, lost or a loved one, contact one of the Todd J. Leonard Law Firm's Car Accident Attorneys. For more than 30 years, we have been helping clients who have been seriously injured in a car accident. We recognize the challenges you face as a result of a serious motor vehicle crash and are uniquely positioned to protect your rights and help you through the recovery process. We are a Five-Star rated law firm, recovering a total of more than $100 million on behalf of our clients, who have been injured in all types of accidents, including Uber or Lyft accidents, or a pedestrian accident, slip and fall accident, motorcycle accident, truck accident, or were injured at work. To learn more and to schedule a FREE consultation, give us a call today at 973- 920-7900. You can also connect with us through our online form. There is never a fee unless we win your case. We have two conveniently located offices in Denville and Morristown, New Jersey.