Slip and Fall Accidents on Snow and Ice in New Jersey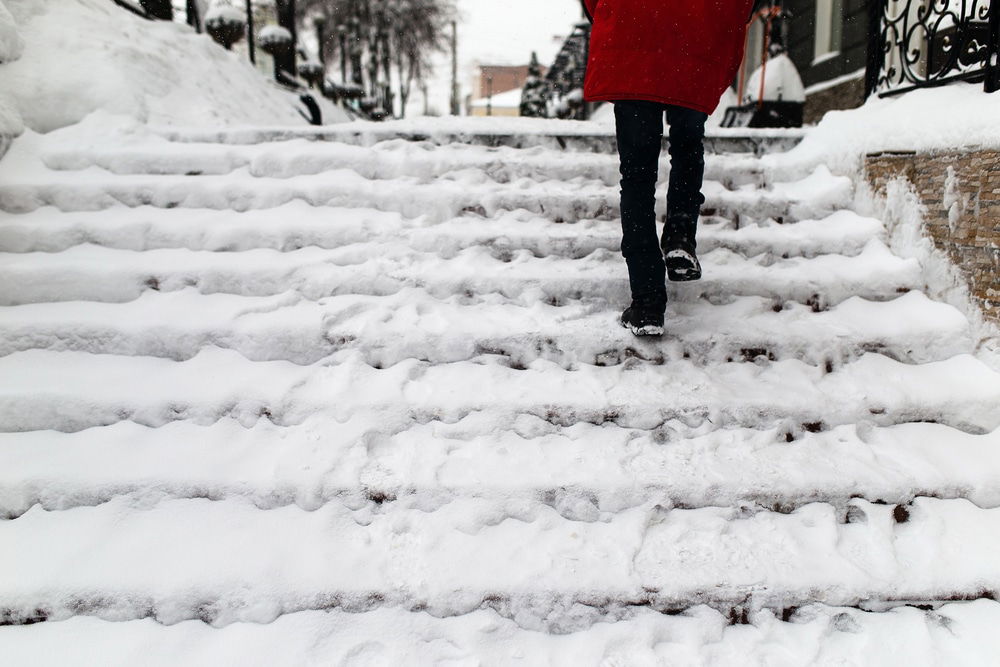 Many people from New Jersey are injured every day in the wintertime as a result of snow and ice causing dangerous and slippery conditions. If you or a loved one are injured as a result of a slip and fall accident, such as falling on snow and ice on a sidewalk, parking lot, shopping mall, hotel, walkway, or your place of employment, one question to ask is "If preventative measures were taken by your landlord, or the owner of the property where you had your fall, would you not have fallen?" Similarly, did the property owner, landlord, or their contractors, know, or should have known, that an unsafe condition existed?
During wintry conditions, one of the most common slip and fall accidents is pedestrians falling on snow and ice that has not been cleared from sidewalks, walkways, or stairs, and/or ice melt was not appropriately applied, or that melting snow refroze. It is a landlord's / property owner's responsibility to take reasonable steps to ensure the premises are safe and often they hire a snow and ice contractor to maintain the property in the winter months.
If you are injured, you may be looking for guidance and someone to help. Our experienced New Jersey personal injury lawyers can offer you the advice you need and can trust during this uncertain and difficult time. New Jersey has a two-year statute of limitations, a time limit whereby a person can bring an injury lawsuit. Therefore, if you think you have a claim against your landlord, a property owner, and/or the snow removal contractor, and believe they did not maintain their premises in a safe manner, you should contact our New Jersey slip and fall accident lawyers now.
The Todd J. Leonard Law Firm has over 25 years of experience handling all types of slip and fall personal injury claims, including slip and fall accidents throughout New Jersey. Todd J. Leonard is certified by the Supreme Court of New Jersey as a Certified Civil Trial Attorney. Our firm passionately represents our clients who have been injured. Our team of trial lawyers is dedicated to doing our best to help our clients, and we always stay in close communication with them.
Contact the Todd J. Leonard Law Firm
Our proven results are a testament to making sure our clients obtain the maximum compensation they rightfully deserve. We are committed to providing outstanding personal injury representation and will fight to obtain the best possible outcome. We take great pride in helping our clients and will be there for you through the entirety of your case. Please give us a call today at (973) 920-7900 to request a free appointment. There is never a fee if we do not obtain a recovery for you. We have offices conveniently located in Denville, Morristown, Woodbridge, and Newark.